Responsive Website
The PhysioTwo package includes a 25 page website that can present your clinic in a professional manor to all your clients and potential referral sources.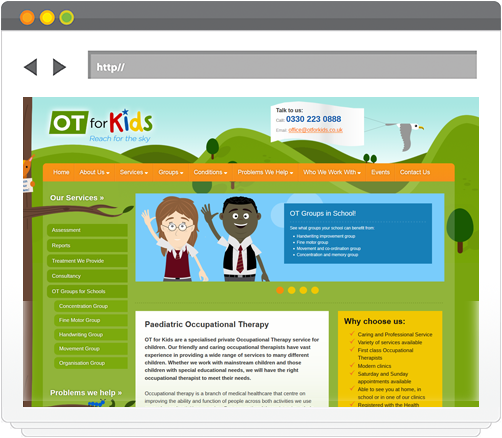 Because there is so much content on your website, it will rank higher in the search engine results. This will cause more visitors to come to your website, which means more business for you! The Physio123 team knows how to organize all this information so your visitors gain the maximum benefits from it!
By ordering the PhysioTwo package, you will receive a website that will make your Physical Therapy business look it's best! Based on the information you give us, Physio123 will build an incredible website that will far exceed your expectations.
The website Physio123 builds for you will be custom made, just for you, and will include a wealth of information and functions that will make it attractive to your visitors. Our websites make it easy for potential patients to find the they are looking for.
With the combination of a good design and high Google rankings, Physio123 will continue to add further value to your business for many years to come.

High class web design
The websites that Physio123 produce are sites that you would expect to pay a whole lot of money for. This professional image that your new website portrays will make your clients feel comfortable with you and be confident that they are working with the best!


100% custom design
All the websites we design for our clients are completely unique. There is no such thing as a template for a Physical Therapy business, so why should there be one for a website? We design your website based on the specific input you give us and make it look exactly like you want it to!


We design accessible websites
All the websites we design are user friendly. We comply with all the associated accessibility laws – not because we have to, but because it provides a fair opportunity for everyone to access your service!
Usable design
By working hard to make sure your website is very usable for all visitors, Physio123 makes it easy for everyone to find everything they need on your site. There is nothing worse than working hard to get someone to come to your website, only to have them leave because they can't find what they are looking for...


High search engine rankings
Every site Physio123 builds is coded in a way that is very attractive to search engines. It is important to have a website that is search engine friendly, because ranking high in search engines is the best way to get a steady flow of new patients to your practice!


High rankings + professional design = More referrals
By combining all the benefits we offer, you are sure to get better results than you would if you promoted your business through any other means. There is no better way to get more new clients to your website and turn them into patients than a website from Physio123!
Order this package