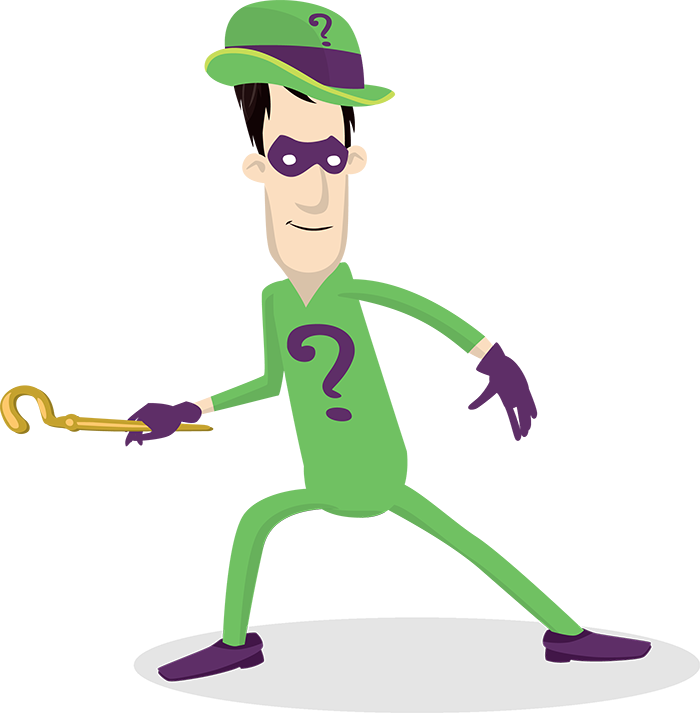 FAQs
Below is a selection of questions Physio123 have been asked. If you have any further questions, please don't hesitate to contact us by emailing: office@physio123.com or use our enquiry form.
Common questions
What is the amount of referrals I can expect per month?
There is no real way to answer this question without knowing more about your practice. The package you chose, the location your practice and the different services you offer will all play a large part in determining how much new business you get. Usually, though, practices see a spike in new referrals, and they continue to build as your site gets established.
What payment methods do you accept?
Although we can arrange for customized payment solutions, we much prefer it if you order through our secure website. We accept all major debit and credit cards.
Can you help promoting my pre-existing website in search engines?
Absolutely! Not only does Physio123 design great sites, we specialize in marketing them as well! Have a look at our SEO packages for more information!
Can I include add-ons after I have ordered my package?
Yes, you can add new features to your package at any time.
Can I set up my Physical Therapy business with a partner and still get the same prices?
Yes! The price of our packages are per website, so it doesn't matter if you work alone or work with a partner! The cost stays the same!
I don't have my own clinic yet. Can I use a physio123 package to promote my home visit service?
Absolutely! Home visits are how most practitioners get started in this business, and we are more than happy to build them a website to help build their business!
I have used your service for a while now, and would like to upgrade. Can you offer me some kind of discount
Yes. When upgrading, inquire about our loyal customer discount. We value your loyalty.
Can I cancel my package at any time?
Yes. Since there are no contracts involved, you can cancel your package at any time.
My two current Physical Therapy businesses are not running at full capacity. Will the packages you offer be able to help me with that?
Sure. Physio123's main objective is to generate new clients for practice that are not running at full capacity. Through web development, marketing and design, we can build your online presence so you get more business.
I am just getting started in this business, and aren't totally sure Physio123 will be beneficial for me. Do you offer some kind of trial period?
We allow everyone to try out our PhysioOne package, completely free of charge, for a six month period.
I am already employed as a Physical Therapist. Is the service you offer suitable for practitioners who wish to see patients in their spare time?
It sure is! Our PhysioOne package is great for testing the waters in your area and finding clients to see in your spare time.
Do you give medical help?
Unfortunately, no. We are a web design and marketing company – we do not give clinical advice.
I want to make the jump to a private practice, but I am scared that nobody will use my services. Is this common?
Yes. This is one of the main reasons people don't go into private practices. There are always a few risks involved when starting a new business, but it should not deter you from branching out and making a name for yourself. If you work hard, you can achieve anything – with the help of Physio123 of course.
Recently, I have decided to take more time off to spend with my family. Can I arrange the work I do around private engagements?
When you work for yourself, you can do whatever you want! You can schedule patients whenever you want, and you can make sure you have free time to spend with your family! The flexibility of a private practice is one of the main reasons people start a private practice!
If I decide to sell my business, can I transfer my website as well?
Yes. Physio123 can help facilitate the transfer of your website to the new owner of your business.
Consultation, design & development FAQs
When can I expect my website to be complete?
The answer to this question can vary. It can take anywhere from one week to a whole month. The PhysioOne package takes about 7 days, the PhysioTwo package takes around 14 days, and a PhysioThree package should be complete in under a month.
Am I able to add my own content to my website?
You sure can. When you order, you complete a customer requirements form. On this form, you will specify everything you need, and anything you don't. You can make suggestions on colors, images, and anything else that may be helpful to us. The more information you give us to work off of, the better the end result will be!
Can you include pictures of my clinic and my colleagues on my site?
If you send them to us, we will be happy to include them in the design of your website.
Can I use a logo I have already had designed?
Sure. Most clients we work with already have a logo, and we try and incorporate them into the design of their website! We can also modify your logo for you, if you wish.
I already have a pretty good idea of what my website should look like. Can you design a similar website to one I have seen?
Sure! It is easier for our designers to work if you give them an example of the kind of websites you like.
Can you change the colors you used on my site?
Sure. We can change the colors of your website upon your request.
Why do you need my personal contact details?
Designing a website is a complicated project. The more input we get from you, the better job we can do. Therefore, having your personal contact details gives us and our designers a quick way to get in touch with you, in case we need to discuss a specific detail.
What happens if I move the location of my practice?
If you do decide to move, the team at Physio123 can quickly change all the contact details on your website!
I am thinking of taking some supplemental courses so I can offer more services to my clients. Will you be able to add these to my website if I complete them?
Sure. If you wish to add additional information during the design process, we can do that free of charge. But, you wish to add pages after the initial design of your website is complete, there is a small additional one-off charge of $30 per page.
Will any advertisements be placed on my website?
No. Because Physio123 is all about image and professionalism, we will not place any advertisements on your website.
Can I include different domains with my package?
Yes. You can include any additional domain names in your package for $40 per year.
Will my site experience any downtime?
We guarantee a website uptime of 99.9% throughout the year.
Promoting, Marketing and SEO FAQs
When should I start to see new clients coming to my practice?
We employ two different strategies for all our clients – a short term and a long term strategy. The short term strategy will allow almost immediate results, while the long term strategy will ensure a steady stream of new clients for years to come!
Do you take care of all the marketing for my business?
Physio123 takes care of everything related to online marketing for your business.
Can Physio123 help promote my existing website?
Sure. We not only design great websites, we specialize in promoting them as well! Check out our SEO packages to see what we can do for you!
Why will having a high search engine ranking bring new clients to my practice?
A high search engine ranking means more traffic. More traffic to your website means more inquiries about your service. The more inquiries you get, the more clients you will get!
Have a look at some of the following figures:
Physical therapy generated over 3,000,000 searches every month for 2009
More and more people are turning to the internet to find their health care professionals
When more people come to your website, there is a higher chance they will become your clients!
Almost everyone is turning to the Internet to find a Physical Therapist. If you have a high search engine ranking, more people will find your website and see how you can solve their problems! It's just that simple!
Does search engine marketing actually produce a measurable increase for private Physical Therapy practices?
It sure does. The truth is, if you are not ranked high for your Physical Therapy related keywords, you are missing out on a lot of potential business!
How do your Adwords and SEO packages differ?
Search engine optimization and Adwords are two techniques that are extremely effective in generating new business for your practice.
Adwords Package:
To get immediate results, you should consider Physio123's Adwords package. You have seen them before – Adwords are those little sponsored ad's that you see on top and on the side of search engine results. By bidding on specific keywords, you can get your ad to show up there instantly! The only time you actually have to pay for anything is when a visitor clicks on your link! You don't pay for the actual spot, you pay for specific clicks!
Search Engine Optimization Package:
SEO is more of a long term strategy. By optimizing your website for natural search results, you will get higher rankings in the organic search engine results. This means you get visitors for Free! But, the results are not immediate...
Which one is best for me?
There is not one best method. The best way to leverage these two techniques is to use them at the same time! This way, you get immediate results, and as you build up your organic SEO position.
What benefits will I receive from optimizing my website for search engines?
The main benefit you will receive from optimizing your website is that it will be the first website your potential clients see when they search for your targeted keyword!
When someone searches for the following, your website should comer up first:
The name of your practice
Keywords that are related to what your practice does
Keywords that are related to the services you offer
Keywords that are related to some problems you can fix
Based on recent research, Google has told us that people look at natural search engine results first. The heat map below clearly demonstrates this. The places where people look first are signified by the heat traces across the image.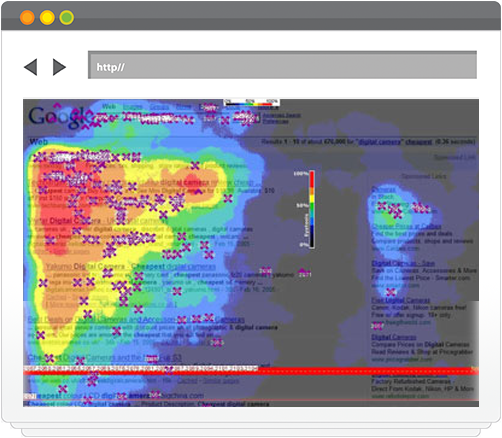 The price of an SEO campaign is fixed. It is unlike an Adwords campaign where every time someone clicks, you have to make a payment. It doesn't matter if one of one hundred thousand people click on your link – it's all free!
If your website is designed with SEO in mind, it will show up in a large amount of other search engines as well. Not only will your website get a lot of new visitors, it will make it difficult for any of your competitors to do the same. So, by reducing their influence, you are increasing yours! The more you keep on working on this, the more new clients you will get. Month after month, more clients will start calling!
What are the benefits of an Adwords Campaign?
Below are the top five reasons why your business should promote itself using Adwords:
By using Adwords, you get immediate, measurable results
The clients that click your ad will be more location specific than the clients from natural search engine rankings
You can use dynamic keyword insertion to increase the effectiveness of your ads. For example, if someone typed in "foot pain New York", your ad could automatically include that phrase in your advertisement!
By using the professional ad management team at Physio123, you can be sure your campaign will be effective
You can target searches that happen specifically in your local area. This way, you don't have to waste money paying for clicks from clients who are half way across the world!
Why is Physio123 the best team to manage my Adwords/SEO efforts?
There are so many good reasons to choose Physio123 to manage your marketing efforts, it would be impossible to list them all here. Here are some of the main reasons why most clients choose us, though:
We are results oriented – since we don't use contracts, we have to make sure you are happy so you continue using our service. If you are not happy, we don't get paid!
We have been doing this for years – we specialize in Physical Therapy practices, so we know exactly what you need to be successful.
Our team has a high level of knowledge on Physical Therapy, and how SEO can really boost these businesses
Our services are competitively priced, so we end up saving you not only time, but also money!
We increase your income! The main reason people choose to work with us is because we increase their income and the value of their business
What is the duration of time I will have to wait before I start seeing results?
It can take anywhere from 2 to 12 weeks to see dramatic improvements. As time goes on, your results will continue to improve.
What will be the content of my ads?
The team at Physio123 will use their experience to create custom ads that suit your business and get the best return!
What is the purpose of the monthly fee?
The monthly fee for our website packages pays for domain name, web hosting, email access, SEO services, Adwords, support and maintenance.
The monthly fee for our SEO packages includes an Adwords budget and management of your SEO/Adwords campaign.
Do I have to sign a contract?
No. Physio123 does not use any contracts. You are free to cancel your service at any time if you are not satisfied with the service we are providing you. We are also confident enough in the services that we offer that we know once you see the results the packages that Physio123 offers, you will stay with us for the long term! Our success is your success – let's succeed together!