Desk pad Printing
Specs
Full colour

Single sided

Size: A4 (210mm x 297mm)

Printed: 120gsm uncoated
You know that marketing your practice is about more than just telling patients once or twice about your services. It requires making sure your name remains the first on the list for the services you offer - at all times. An easy and inexpensive way to accomplish this is by giving your patients complementary desk pads complete with your practice name and contact information.
Prices
Design
Quantity
50
100
200
500

Desk pads

Desk Pads

£50
£390
£514
£786
£1488
Each desk pad contains 50 sheets and comes with a hard strawboard back.
Price includes free postage to any UK address.
Ready to get started?
Order
If you have any questions about getting your Leafldesk pads designed and printed, simply email printing@physio123.co.uk or call 0203 397 7850.
What are desk pads?
The desk pad is an extremely effective tool inasmuch as your patients will see your name and logo multiple times per day, nearly every day of the week. Every time they need to scratch a note for themselves, they will see your name. Every time they post a note on the fridge, they will see your name. They will even pass your name along to others.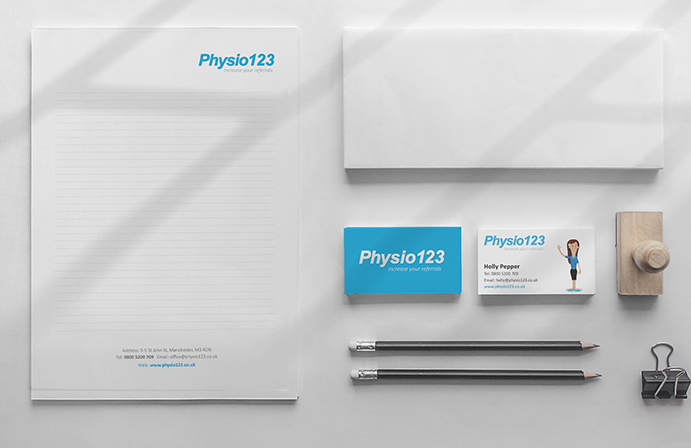 Physio123 wants to help you take advantage of the desk pad as a marketing medium. We have already seen it work for others; we know it can work for you too.
Why desk pads for therapists
Our speciality is branding and marketing for therapists. Part of the branding philosophy is to create an image of your practice that will stick in the minds of patients. Through effective channels such as the desk pad, we help to always keep your brand at the forefront. What's more, your brand is introduced to new patients when they receive a note, hand written on your desk pad.
If you are unsure just how productive a desk pad can be, think about your own home. When you need to write down a simple note for yourself or a family member, on what do you write it? On the first small piece of paper you can find. Having a desk pad readily available provides that piece of paper.
Whenever one of your patients sees the desk pad, they are reminded of your office and the service they receive from you. Assuming it is a service they are pleased with, the desk pad serves as a gentle reminder to come back and see you again. Regular patients can use the desk pad as a quick reference for your contact information.
Desk pads design
Designing your desk pad is as simple as getting in touch with us at Physio123. Our incredible design team has years of experience working with therapists the world over. We are brand specialists who know what it takes to create and establish a brand that will not be forgotten. That's what you need.
Desk pads options
Physio123 prints desk pads in sizes ranging from A2 to A5, including your logo in full-colour. We use only the highest quality paper and ink for a bright and brilliant image sure to speak volumes to your patients. Imagine them being exposed to your practice name and logo hundreds of times with a single desk pad. It is hard to do better than that from a marketing perspective
Looking for something else?