Flyers Printing
Specs
Full colour

Single or Double sided

Size: 210 x 99mm (DL)

Options:

A4 - single sided (210mm x 297mm)

A4 - double sided (210mm x 297mm)

A5 - single sided (148mm x 210mm)

A5 - double sided (148mm x 210mm)

A6 - single sided (105mm x 148mm)

A6 - double sided (105mm x 148mm)
Have you ever walked down the street only to be handed a flyer from a local business? Flyers are a common form of print marketing because these are easy to produce, cost-effective and readily noticed by your customers. When you place a flyer in someone's hand, they are immediately aware of your practice.
Prices
Design
Quantity
100
500
1000
2000
5000

Flyers

A5 Flyer(single sided)

£80
£63
£87
£99
£138
£258

Flyers

A5 Flyer(double sided)

£140
£69
£99
£126
£156
£282

Flyers

A6 Flyer(single sided)

£80
£42
£57
£72
£93
£162

Flyers

A6 Flyer(double sided)

£140
£48
£66
£90
£108
£168
Price includes free postage to any UK address.
What are flyers?
Flyers are one way Physio123 can help you inform your local community about something special. These are also a great way to alert new patients to your location, your list of services and so on. You take pride in your practice, and we want to help that pride shine through with flyers you will be proud to distribute.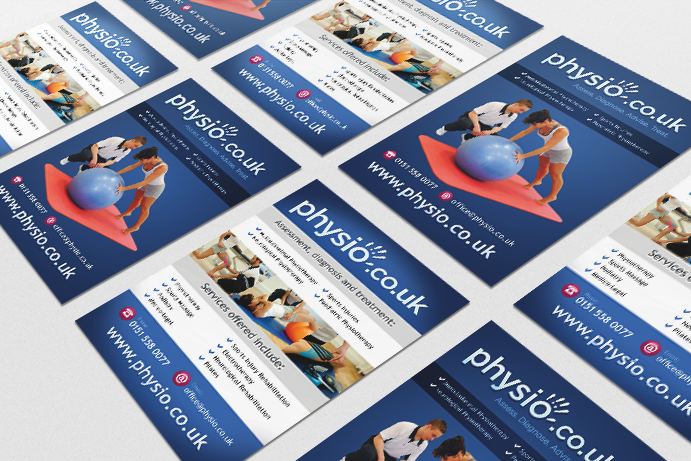 Why flyers for therapists
You might be wondering why flyers are appropriate for therapy practices. It comes down to this: you have a hard time quantifying what your practice is all about in a way that potential new patients can easily grasp. The flyer does that for you.
Physio123 specialises in creating attractive flyers that combine graphics and text in a way that gets your message across clearly and plainly. One look at your flyer and your patients will instantly understand what you want them to know.
Flyer design
Physio123 flyers are printed on high-quality poster stock in one of two sizes, either single or double-sided. We can provide full-colour based on your artwork or ours.
Flyer options
Physio123 posters are available in three sizes and a variety of stock options. All of our stock is of the highest quality in order to produce a poster that will stand up against the weather and other forms of abuse. We believe your posters deserve nothing less.
We print our flyers in five different sizes and styles:
A4 flyer (single sided)
Our largest flyer is the A4, which measures 210 x 297 mm (8.27 x 11.69 inches). This single-sided flyer is perfect when you want it to double as a small window poster.
A5 flyer (single sided)
The A5 flyer measures 148 x 210 mm (5.83 x 8.27 inches). It is a very nice size for distributing on the street or at festivals. The single-sided poster can include your choice of graphics, text, and a variety of creative layouts.
A5 flyer (double sided)
We also offer a double-sided A5 flyer for those times when you need more print space. Use the double-sided flyer to take advantage of full-colour graphics that really grab the attention.
A6 flyer (single sided)
At 105 x 148 mm (4.13 x 5.83 inches), the A6 poster is the smallest flyer we print. It is bigger than a business card but still small enough to make it easy to hang onto without being cumbersome. Our single-sided A6 is a good choice when you only need a small amount of printing space.
A6 flyer (double sided)
We also offer a double-sided A6 as well. Use one side for your full-colour graphics and the other for your message in text.
Looking for something else?