Poster Printing
Specs
Full colour

Single or Double sided

Size options:

A1: 594mm x 841mm

A2: 420mm x 594mm

A3: 297mm x 420mm

Printed: 250gsm silk
Next time you find yourself walking down a city street, we challenge you to take notice of how many posters you see along the way. You might be surprised with what you find. Posters are everywhere - in windows, on walls, attached to lampposts, etc. These are a popular advertising medium because they work.
Prices
Design
Quantity
1
10
25
100
250
500
1000
2000
5000

Posters

A1 Poster(single sided)

£80
£42
£78
£189

Posters

A2 Poster(single sided)

£80
£39
£57
£104
£342

Posters

A3 poster (single sided)

£80
£54
£84
£138

Posters

A4 poster(single sided)

£80
£64
£102
£132
£186
£297

Posters

A4 poster(double sided)

£140
£78
£156
£207
£300
£570
Price includes free postage to any UK address.
What are leaflets?
A leaflet is essentially a printed announcement intended to describe a one-off event or provide your patients with a reference material for your business. The Physio123 team believes in the power of the leaflet to effectively communicate with your patients on an ongoing basis. We believe good leaflet design and printing could make a real difference for your practice.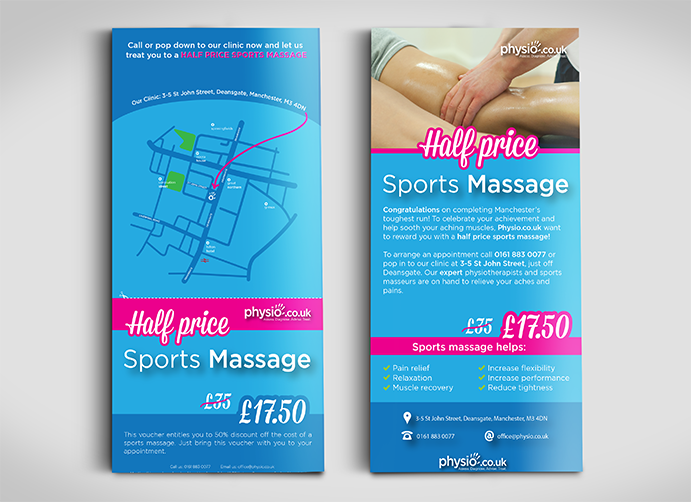 Why leaflets for therapists
Our printing department has been established specifically to help therapists like you. We know what it takes to design literature that will grab the attention of your patients and encourage them to use your services.
Physio123 also understands you have plenty of competition for those new patients you are hoping to win. We believe leaflets will play a vital role in that competition, both now and in the future. Whenever you have need of a new leaflet, we want to be the company to provide it.
Whether you are opening a new office, expanding your services or announcing the addition of a new staff member, the leaflet is the right tool for the job. We can print as many as you need for your distribution goals.
Leaflet design
Our in-house design team has the necessary skill and experience to create dynamic leaflets capable of delivering results. With 20 years of combined experience, our designers have worked with therapists from all over the world to develop successful branding of websites and clinics. We would love the opportunity to put that experience to work for you.
Leaflet options
Our leaflets are all standard DL size printed on your choice of stock. We offer full colour printing, black-and-white printing, customised artwork, and complete proofing before printing.
We print our leaflets in three different styles, as follows:
DL leaflet (single sided)
The DL single-sided leaflet is our most affordable option, providing your choice of black-and-white or full colour printing on one side.
DL leaflet (double sided)
If you would like to concentrate on attention-getting graphics to get your message across, a double-sided DL leaflet is ideal. This leaflet provides printing on both sides of the stock, to your exact specifications. It is the ideal format for featuring graphics on one side and text on the other.
Tri-fold DL leaflet (front and back)
Our tri-fold DL leaflet offers you printing on both sides of the stock for a unique presentation when folded into three separate panels. This leaflet allows the maximum amount of flexibility for combining graphics and textual information. This is the leaflet you need when you have a lot of information to pass along to your patients.
Looking for something else?